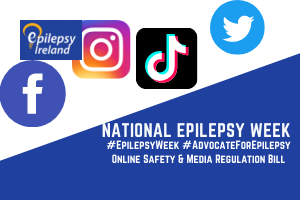 We are delighted to provide an update to our members and supporters regarding our ongoing advocacy campaign for #EpilepsyWeek. Today we have been raising awareness of the need for the proposed Online Safety & Media Regulation Bill to contain a reference to potentially harmful online content which - in itself - is designed to cause harm. 
We are pleased to report that we have accepted an invitation to address the Oireachtas Committee on Media regarding this key point as part of their pre-legislative scrutiny of the legislation.
We would like to thank all members of the Committee and the Committee Chair for acting quickly to have this matter heard and we hope that they will take our point on board as part of the pre-legislative process. 
We will provide a further update on this following our appearance at the Committee.
#EpilepsyWeek #AdvocateForEpilepsy