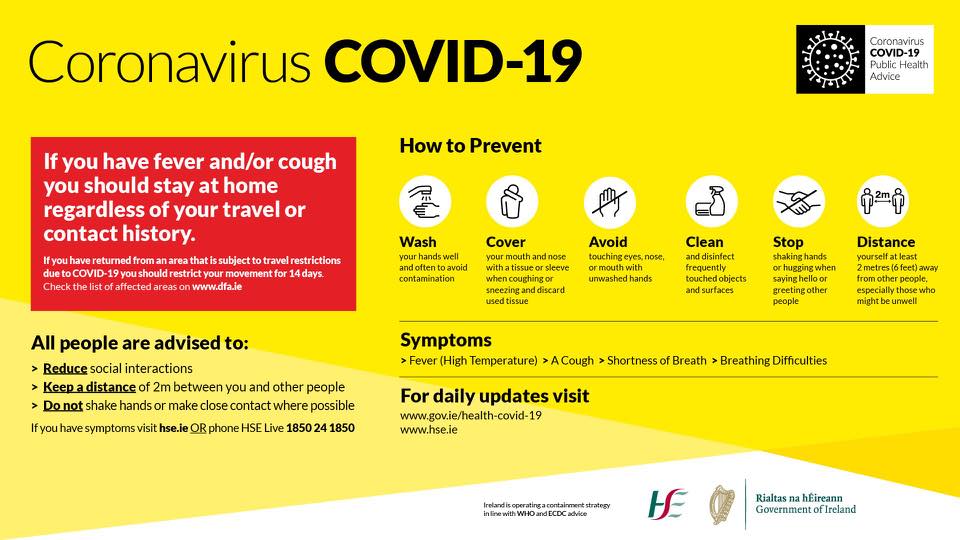 It is important to note that all the essential information on Coronavirus Covid-19 - including advice, symptoms, what you should do if displaying symptoms, travel advice etc -  is available on the HSE website here. Please be sure to follow the official advice which is being issued through the correct channels, i.e., the Department of Health & HSE rather than other untrustworthy sources of information - social media etc.
With regard to the Covid-19 and epilepsy, we have received queries about what the virus could mean for people for epilepsy. The majority of these have related to three main areas:
1) The risk to people with epilepsy
2) Self-isolating and Social Distancing
3) The availability of epilepsy medications.
We have outlined some information regarding each of these points below:
1) The risk to people with epilepsy 
The Department of Health & the HSE have issued no specific guidelines for people with epilepsy. Neither have stated that there is any increased risk of contracting the virus owing to having epilepsy. In short, there is no known evidence that people with epilepsy are at a higher risk of contracting Covid-19.
However, all people with epilepsy and their families should remember that any illness like a fever, virus, flu etc can impact on seizure control and cause an increase in seizures. Epilepsy patients who have an Epilepsy Specialist Nurse, should call their nurse advice line by phone or email in cases where Covid-19 symptoms emerge. In many cases, the team can manage epilepsy care/ treatments over the phone and email. These services are currently open Monday to Friday but this is subject to change if staff redeployment if required.
Some patients with epilepsy have other conditions that predisposes them to immunosuppression. In addition, some medications can be immunosuppressive. These persons will have a  lower immune system to fight infection. As in any situation, changes to your epilepsy medication should NEVER be made without prior consultation with your medical team.
Please rigidly apply the guidelines that have been issued to prevent the spread of the virus. Therefore, please take the time to carry out the proper preventative measures as outlined below:
-Wash your hands properly and regularly, following the HSE advice carefully
-Cover your mouth and nose with a tissue or your sleeve when you cough and sneeze.
-Put used tissues into a bin and wash your hands.
-Clean and disinfect frequently touched objects and surfaces.
-Follow the travel advice from the Department of Foreign Affairs.
-Do not touch your eyes, nose or mouth if your hands are not clean.
-Follow social distancing advice available from the HSE.
2) Self-isolating and Social distancing with epilepsy
If you have regular seizures, particularly tonic-clonic, or any that could cause harm, isolating a person with epilepsy would leave them vulnerable to undetected seizures, and recovering on their own. It would be advisable to always inform family, or carers that you are self-isolating so that you can be checked on. You should also ensure you have all your medication prescriptions in supply and up to date. Make sure to havee your phone to hand, along with a charger and if possible arrange for calls to a family member/ carer/ friend at pre-arranged intervals e.g. on the hour.
3) Availability of Epilepsy Medications
In relation to the availability of medications, Epilepsy Ireland reached out to the Health Products Regulatory Authority (www.hpra.ie) who have confirmed that at present there is no immediate risk to medication supply. They state:
"The HPRA is actively monitoring the situation in relation to any potential future impact of the outbreak of Covid-19 on the supply chains of medicines used in Ireland. There are national and international multi-stakeholder coordinated efforts relating to the management of any possible impact of Covid-19. The HPRA is participating in this work, and there are no reported current or near term medicine shortages due to the coronavirus at this time, as is the case across the EU. The HPRA remains vigilant to any potential risk and will continue to work with other authorities at national, European and international level to closely monitor the situation and ensure that all appropriate steps are taken to facilitate continuity of supply."
Again, please be sure to follow the advice which is being issued through the correct channels, i.e., the Department of Health & HSE.
For people with epilepsy, it is also advisable to follow good practice when it comes to ensuring your prescription is filled early and by keeping your epilepsy medication in date - these are two steps that should be followed anyway, regardless of the current situation.
Stress and anxiety can also increase susceptability to seizures. See also our section on lifestyle and triggers for further information on how best to manage your epilepsy here.
Should you have any other concerns, please do not hesitate to get in touch with your local community resource officer. 
Further information and advice on COVID19 is available on the HSE's dedicated site for the matter here.
This article is subject to change and will be updated when/if further information becomes available.