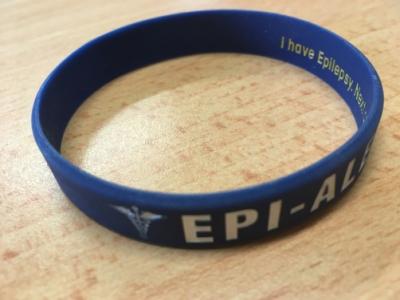 The Epi Silicone Band is a discreet identifier for people with epilepsy to allow members of the public know that they have the condition in the event of them having a seizure in public or if they are in new surroundings where everyone may not know they have the condition. 
Oftentimes, first-responders who are equipped with the knowledge on what to do in the event of seizure will look for some sort of indication that a person has epilepsy and the Epi Silicone Band is a perfect identifier for this.
Available in blue or yellow in small,  medium or large sizes, for the cost of €3 you can have this peace of mind. We have only small size  left in stock as of March 1st, we are waiting on the Larger sizes to be delivered to us. we expect them in end of March. Thank you. 
When you are writing your name or next of Kin Details on the inner side of the Wristband, please use a Sharpie Permanent Marker.
Please note that due to the current situation with Covid19 and with staff working from home, there will be a delay in processing shop orders. Please bear with us during this challenging time - we look forward to normal service resuming as soon as possible. Stay safe!