#EINC2021 - "Untrained Dogs & Seizure detection"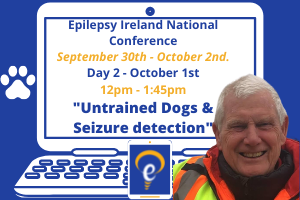 The second session of the second day of #EINC2021 will be regarding a piece of Epilepsy Ireland supported research which made national and international headlines in the media recently around untrained dogs predicting seizures. We are delighted to be joined by Dr. Neil Powell who will give a wider insight about his research and speak about its findings to all those in attendance and there will of course be the opportunity to put forward questions to Dr. Powell regarding his work. This one is not to be missed!
TIME: 12:00pm - 1:45pm
REGISTRATION:
 This event will be held on zoom. To register your attendance for this event, click
HERE.
See what else we have planned for the first ever online Epilepsy Ireland National Conference by returning to our events hompage HERE or the dedicated conference page HERE.