#EINC2021 - "Seizure Detection Devices"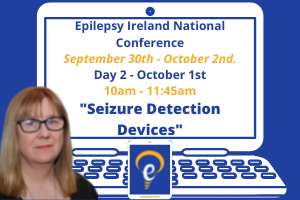 In this session, Epilepsy Ireland's National Information Officer Geraldine Dunne will provide attendees with an overview of seizure detection devices that are currently available on the market. The interest in seizure alarms is something that is of keen interest to people with epilepsy and their families. Our team has reported how this interest has grown particularly since the onset of the pandemic and this seminar will aim to provide a wide range of information on a number of devices for all those in attendance. If you'd like to learn more about seizure detection alarms, this session is for you!
TIME: 10:00am - 11:45am
REGISTRATION:
 This event will be held on zoom. To register your attendance for this event, click
HERE.