#EINC2021 - "Roundtable Discussion on Medical Cannabis & Epilepsy"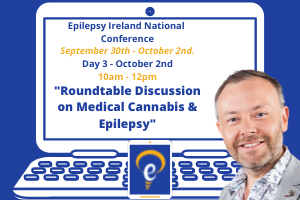 Saturday, October 2, 2021
We are delighted to be joined by leading neurologists Prof Norman Delanty, Prof Colin Doherty, Dr. Bláithnaid McCoy and Dr. Bryan Lynch for a roundtable discussion on what has been a hot topic in the epilepsy community for a number of years – the use of medical cannabis and cannabis-based products to treat epilepsy. This panel will be hosted by our patron Rick O'Shea and will discuss the role that cannabis-based treatment can have in epilepsy, the latest evidence in the field, current issues around the Medical Cannabis Access Programme, future directions, why clincians use the Ministerial Access Liscensing Route for some patients and much more. You will get a firsthand insight on what can be a controversial subject from expert clinicians who are directly involved in epilepsy care, and of course there will be plenty of opportunities to put forward your questions and comments to the experts on the day. 
TIME: 10:00am - 12:00pm 
REGISTRATION:
 This event will be held on zoom. To register your attendance for this event, click
HERE.
See what else we have planned for the first ever online Epilepsy Ireland National Conference by returning to our events homepage HERE or the dedicated conference page HERE.