#EINC2021 - "My Life and Epilepsy"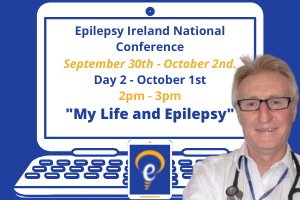 For this part of #EINC2021, our patron Rick O'Shea joins us to speak with Dr. Jim Morrow. Dr. Jim is a retired consultant neurologist who spent his life working in epilepsy – only to be diagnosed with the condition then himself. With skilled broadcaster Rick conducting the interview and Dr. Jim being a very willing interviewee, this session is sure to provide a lot of interesting insights on both treating epilepsy and living with the condition from a person who has first-hand experience of both. 
TIME: 2pm - 3pm
REGISTRATION:
 This event will be held on zoom. To register your attendance for this event, click
HERE.
See what else we have planned for the first ever online Epilepsy Ireland National Conference by returning to our events homepage HERE or the dedicated conference page HERE.