#EINC2021 - "Managing YOUR Epilepsy as a Teenager"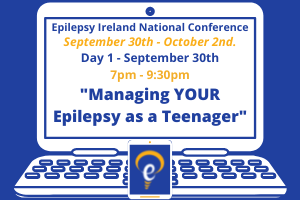 Thursday, September 30, 2021
Our conference will kick off with a special session for teens with epilepsy. We all know that life as a teenager can be difficult but life as a teenager with epilepsy can be even more difficult. The changes that the teenage years bring can sometimes impact on a person's epilepsy and often people with epilepsy who are now well controlled will cite their teenage years as the most difficult in their journey with the condition.
We are delighted to be joined by Dr. Liz O'Mahoney - Pediatric Neurologist from Limerick University Hospital; Dr. Muiríosa Connolly, Senior Clinical Psychologist; and Áine O'Dea, Independent Occupational Therapist. This promises to be an informative and interactive session for young people living with epilepsy so please register and join us on the night!
TIME: 7pm - 9:30pm
REGISTRATION:
This event will be held on zoom. To register your attendance for this event, click
HERE. 
See what else we have planned for the first ever online Epilepsy Ireland National Conference by returning to our events hompage HERE or the dedicated conference page HERE.