#EINC2021 - "Epilepsy in English"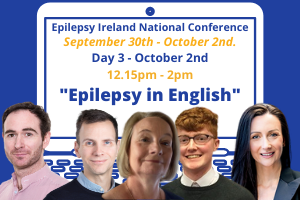 Saturday, October 2, 2021
The final event of our National Conference will actually be the launching pad for another series of events coming your way - all focused on increasing your knowledge of epilepsy research. We will be teaming up with our colleagues in FutureNeuro - the SFI Research Centre for Chronic and Rare Neurological Diseases - for this event and you will hear from leading scientists and researchers speaking about their work and the breakthroughs that they are hoping to achieve.
This series of talks are designed to entice interest in ongoing epilepsy research and to encourage people to attend the series of workshops which will be announced following this launch event; where you will learn much more about the research process!
Dr. Christina Rudell Rescke will introduce and give an oversight of what this overall project is trying to achieve and how it came about while Dr. Matthew Campbel will provide information about Gene Therapy; Professor David Henshall will speak about new treatments for Temporal Lobe Epilepsy; Dr. Yvonne Langan will discuss SUDEP; and finally, PhD candiate & clinical researcher Jack Banks will speak about technological developments in monitoring epilepsy. 
If you're interested in research and want to learn more about emerging developments in epilepsy, this event and the following workshops are not to be missed!
TIME: 12:15pm - 14:00pm
REGISTRATION:
 This event will be held on zoom. To register your attendance for this event, click
HERE. 
See what else we have planned for the first ever online Epilepsy Ireland National Conference by returning to our events homepage HERE or the dedicated conference page HERE.