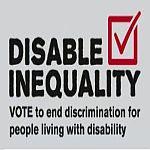 On 11th May, the new Government comprising of Fine Gael, members of the Independent Alliance, and a number of other independent TDs, published its Programme for Government. This is an important document which seeks to set the direction for national policy over the lifetime of the 32nd Dáil. To access this document, please click here.
The Disability Inequality Team would be delighted to receive your comments on the Programme for Government, especially on the commitments relevant to people with disabilities. Please click here to share your feedback with us. 
Your views are hugely important to them in shaping the direction of their ongoing campaign to disable inequality and to deliver a fairer Ireland for everyone. 
The Programme for Government includes a number of commitments broadly in line with Disable Inequality's key asks at the last election. Their vibrant campaign insisted that the voice of Ireland's 600,000 people with disabilities be heard at the cabinet table. They argued that cabinet leadership would be essential to co-ordinate a whole of government approach, including the ratification of the United Nations Convention of the Rights of People with Disabilities (UNCRPD) no later than the end of 2016.
They are pleased that the new Government has now created a position where the Minister for Disability sits at the cabinet table. They also welcome the commitment in the Programme for Government to ratify the UNCRPD by the end of this year. The ratification of this important international convention on the rights of people with disabilities is long overdue, given that Ireland actually signed up to this convention as far back as 2007.
The Programme for Government contains wide-ranging sections on "Improving the Lives of People with Disabilities" (Section 7 page 70) and on "Mental Health" (Section 6 page 65). It contains many specific commitments that will impact on people with disabilities in the areas of income and supports, education, transport, employment, housing, and across many other policy areas.Disable Inequality believes that this document deserves a comprehensive response. They are asking people with disabilities, their families, supporters of our campaign, and all interested parties, to carefully read this document and share your feedback with them.
Website: Disability Inequality