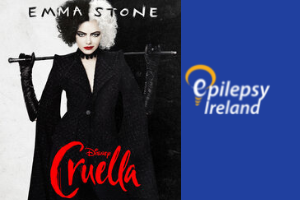 We would like to make those with photosensitive epilepsy aware that new Disney film, Cruella contains potentially triggering content for those living with the condition. 
Those with photosensitive epilepsy can have seizures as a result of an exposure to intense light or visual lighting pattern.  Approximately 3-5% of the wider epilepsy community experience seizures due to photosensitivity.
We contacted the Irish Film Classification Office on this matter and they have confirmed in their guidance that the film does contain flashing sequences. You can see the guidance HERE.
Please excercise caution if you have photosensitive epilepsy and intend on seeing the film.