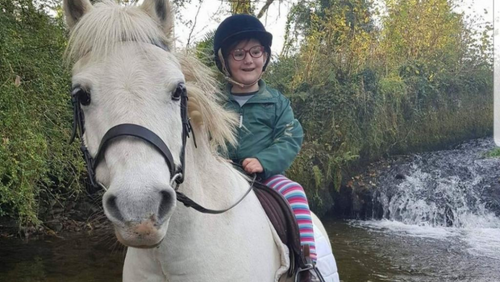 19 Feb 2023
The Brianna Lynch Memorial cup is back once again for the 3rd year of the race!
Brianna sadly passed away in 2019 at the age of 9 due to SUDEP. Through her life, Brianna had a number of needs, including epilepsy, but she faced them all with a smile – and touched the lives of so many within her local community and further afield with her infectious smile and zest for life – despite all the challenges she faced.
Since her untimely passing, Brianna's family have worked to raise funds for Epilepsy Ireland in her name – and to raise awareness of SUDEP amongst the epilepsy community. Brianna's mother Arabella wrote about the loss of her child as part of our activities for SUDEP Action Day 2020 – you can read this piece by visiting the 'SUDEP' section of our website.
With strong connections to the local point to point community, her family decided to establish the Brianna Lynch Memorial cup in 2020 – you can read our report on this inaugural running by visiting the 'News' section of our website.
If you're in the area, why not join Brianna's family and local community in remembering this wonderful young girl by attending the running! The event will see young riders from across the local community taking part in the point to point, vying to walk away with the Brianna Lynch Memorial Cup!
Further details of the running are below and we would like to thank the Lynch family and their local community for the continued support for Epilepsy Ireland in Brianna's name.
Brianna Lynch - Ar dheis Dé go raibh a hanam. 
WHEN: Sunday February 19th, 1:00pm
TICKETS: €10 (Note that ticket prices are not a donation to Epilepsy Ireland but entry to the day's races where the Brianna Lynch Memorial cup will take place. Fundraising activities at the event will be taking part in support of Epilepsy Ireland on the day.)
WHERE: Lisboney, Lisbunny, Nenagh, Co. Tipperary, E45 YH98
This event is not being hosted or organised by Epilepsy Ireland and is being organised by the family and friends of the late Brianna Lynch. We are sharing on our website to help the family promote the event as they continue their incredible efforts to support the work of Epilepsy Ireland in Brianna's name. If you would like to support their event and make a donation directly to Epilepsy Ireland in Brianna's memory, you can do so by visiting the 'Donate' section of our website.  Please ensure that you select the Memorial Cup - Brianna Lynch from the dropdown menu when making your donation.
For more information on SUDEP, visit the 'SUDEP' section of our website.