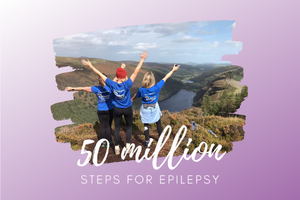 Today marks the beginning of the 50 Million Steps for Epilepsy Campaign!
This is the second year of the international virtual challenge and appeals to people with epilepsy, their families and the wider public to collectively walk 50 million steps in recognition of the 50 million people living with epilepsy across the globe.
The challenge is both a fundraising and awareness initiative for epilepsy organisations across the globe and Epilepsy Ireland are delighted to be taking part once again this year. Will you help us and chip in a few steps?
You have plenty of time to get your steps in with the challenge running until International Epilepsy Day on February 14th.
For further details on how to take part and how to log your steps, visit the link below.
If you're taking part, be sure to tag us in your pics when clocking up your steps! Use the hashtag #50MillionSteps and #EpilepsyDay!
See also - 50 Million Steps for Epilepsy campaign website - https://50millionsteps.org/