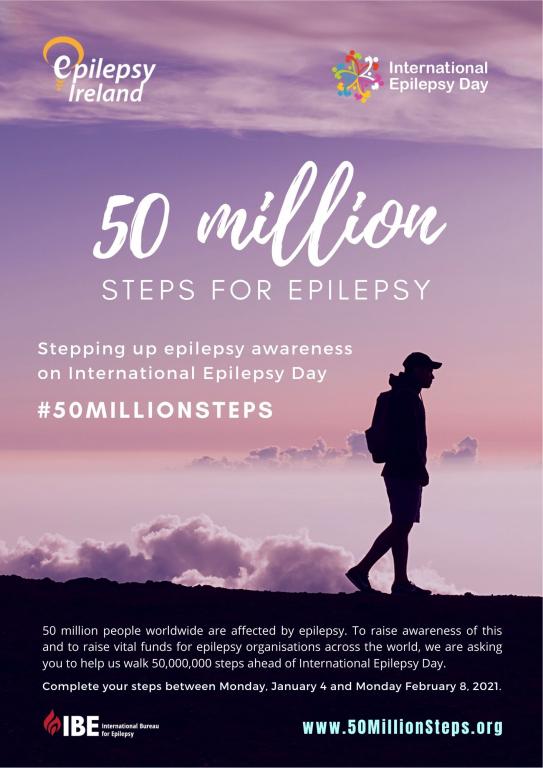 We are delighted to be taking part in the 50 Million Steps for Epilepsy - an initiative devised by our colleagues in the International Bureau for Epilepsy (IBE) as part of the lead up to International Epilepsy Day. 
The IBE is encouraging people with epilepsy and their families across the world to collectively clock up 50 million steps in recognition of the 50 million people living with epilepsy across the globe today. 
As the Irish representatives on the IBE, we'd love to see our dedicated members, volunteers and supporters taking part as part of the lead up to International Epilepsy Day. 
The step challenge is officially underway and will end on International Epilepsy Day on Feb 8th 2021. The collective efforts across the globe are aimed at increasing awareness and understanding of epilepsy; while also providing an oppurtunity to fundraise for our work. Through that period, we hope that the 50 Million collective steps will be completed!
The IBE is also appealing to people's competitive nature which you can learn more about HERE while you can also donate to our work or ask your friends to sponsor your steps by clicking HERE.
If you have any questions regarding the 50 Million Steps campaign, please contact Luke on lmeany@epilepsy.ie. 
Happy stepping everyone and with each step we take together, we can achieve a society where no person's life is limited by epilepsy. 
You can input your steps as part of the overall challenge HERE. 
#50MILLIONSTEPS #EpilepsyDay