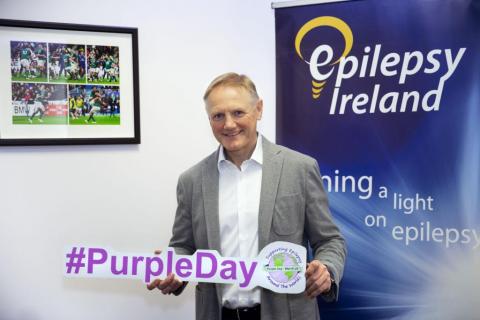 41% of Irish people still incorrectly believe that you should put something in a person's mouth during a seizure to prevent them from swallowing their tongue. The survey, to mark Purple Day (March 26th), was conducted in March 2019 by Amárach Research who asked 1,000 respondents to identify which actions they would take if they saw someone having a seizure. This figure was previously 47% when a similar survey was carried out in 2015.
Peter Murphy, Epilepsy Ireland CEO said; "Thankfully, seizure awareness in Ireland has improved in recent years but as this survey shows there are still myths and misunderstandings that persist such as interfering with someone's mouth during a seizure. This Purple Day, we want to encourage everyone to spend just a few minutes on epilepsy.ie to understand a little more about what to do in this situation".
Epilepsy Ireland are also encouraging buildings and businesses around the country to 'turn purple' to raise awareness of epilepsy on March 26th. Almost 40 well known Irish buildings will show their support for the cause including the Mansion House, UCC and Kilkenny Castle.
Speaking about the nationwide awareness campaign Peter Murphy added: "We really appreciate the support from all the different organisations that will be turning purple on March 26th. The colour purple has been associated with epilepsy throughout history and is internationally recognised as the colour that represents epilepsy awareness. We are very grateful to everybody that will be getting involved with Purple Day this year and I can't wait to see all the different ways people will be supporting Purple Day in 2019."
Epilepsy Ireland ambassador and Ireland Rugby Joe Schmidt is also supporting the campaign: "Purple Day is an ideal opportunity to raise awareness for Epilepsy so I hope people all over Ireland will show their support on March 26", said the Ireland Rugby Coach.
Totalhealth Pharmacies are also offering 10% discounts in all their stores to anybody wearing a Purple Day wristband or with proof of text donation. Purple Day wristbands are available from selected Totalhealth stores, from www.epilepsy.ie or from volunteers around the country. Some terms and condition apply to this offer.
Text donations can be made by texting "Epilepsy" to 50300 and donating €2 to Epilepsy Ireland.
100% of your €2 donation will go to Epilepsy Ireland. Some Network Providers apply VAT which means a minimum of €1.63 will go to Epilepsy Ireland. Service provider LIKECHARITY. Helpline 0766805278
There are many other ways you can show your support for Epilepsy Ireland and Purple Day:
Share Purple Day themed social media content, for example post a photo of a building lit up purple or of friends and family wearing purple using #PurpleDay.
Suggest a local or well-known building or landmark to shine purple for the day.
Hold a purple-themed fundraising event at your place of work or school to support Epilepsy Ireland.
Ask local businesses to help you promote Purple Day.