Tuesday, October 11, 2016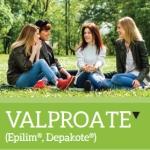 The HSE has published a new toolkit on the drug valproate (Epilim) for patients and prescribers.
The Valproate toolkit was produced by the National Clinical Programmes for Epilepsy, Mental Health and Medicines Management in consultation with the HPRA and patient groups. It aims to reinforce the safety message for healthcare professionals and patients that valproate is not prescribed for girls or women of child-bearing age unless other treatments are not effective or are not tolerated.
In 2014, the European Medicines Agency strengthened its warnings on the use of valproate in women and girls due to the increased risk of developmental problems, autism and malformations in children exposed to valproate in the womb.
The online toolkit consists of:
Patient information booklet
Guidelines for prescribers
Patient/ Prescriber Checklist
Download the Patient Information booklet below or see www.hse.ie/valproate.